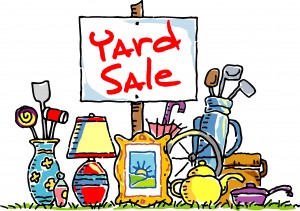 The 12th Annual WELCA Community Yard Sale is back at St. Peters…and it is going to be HUGE this year!!!!
Last years yard sale was a huge success–we sold over 27 spots and rented 7 tables in addition to the bake table and hotdog stand!
This year is expected to be bigger and better and it will take place on the grounds of St. Peters Church on
August 19, 2017 from 9AM to 1PM
(Rain date will be Saturday August 26 from 9AM to 1PM if needed)
Each 6′ x 6′ spot will cost $25 and 6 foot tables can be rented (available on a first come-first serve basis) at 5$ each via a yard sale contract.  Contracts are available through the church office.
Gently used or new donations from the congregation and others will be gladly accepted and they can be dropped off in the Narthex during office hours only Monday (8/14) through Thursday (8/17) or the morning of the event (7:30 AM)…Please have them "pre-priced" for donated items.
Donated baked goods will be received in the Narthex from 8AM to 10AM on the morning of the event!!
If you still have items to sell and you can't make the yard sale, you might want to consider the Fall Bazaar sponsored by WELCA!
Spots fill up fast and are limited!