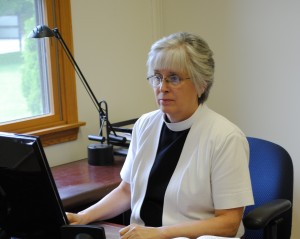 Barbara Reifschneider – Pastor
Pastor Barbara is a cradle Lutheran (Missouri Synod) who fell in love with the church at an early age.  Over the years she enjoyed Luther League, played on the Inter Lutheran Basketball Team, taught Sunday School, served on the Altar Guild, participated in WELCA, and sang in the choir.  She also volunteered for Lutheran Social Services in CT. and the New England Seafarer's Mission.
While raising her children she provided a loving and creative environment for those in her care.  She also taught herself the fine art of woodworking.  Her work is featured in Bandsaw Basics and the Bandsaw Pattern Book by Mark & Gene Duginske. Her commissioned work includes an altar for Concordia Lutheran Church in CT., flower stands for Faith Lutheran Church in Andover, MA., and an eight foot lighthouse for the New England Seafarer's Mission.
On November 15, 1992 she had a call experience while walking through Frog Hollow, an impoverished section of Hartford with the Rev. Lyle Beckman. The next day she found herself taking placement exams at the local community college and began the January semester. In 1999 she received her Master's of Divinity from Andover Newton Theological School and completed
her Luther Year at the Lutheran Theological Seminary at Gettysburg.
On September 16, 2001 Bishop Margaret Payne ordained her as she received a call to Redeemer Lutheran Church in Lawrence, MA. Pastor Barbara served that congregation for thirteen years before accepting a call to St. Peter's Lutheran Church in Newport, RI on May 18, 2014. She began her ministry among us on August 01, 2014. She brings her gifts of creativity and
innovation and has a heart for all aspects of ministry and mission.
On her day off, Pastor Barbara loves spending time with her children and grandchildren. She also enjoys reading, theater, travel, boat building, house renovations, and long walks by the ocean.